California Public Charter Schools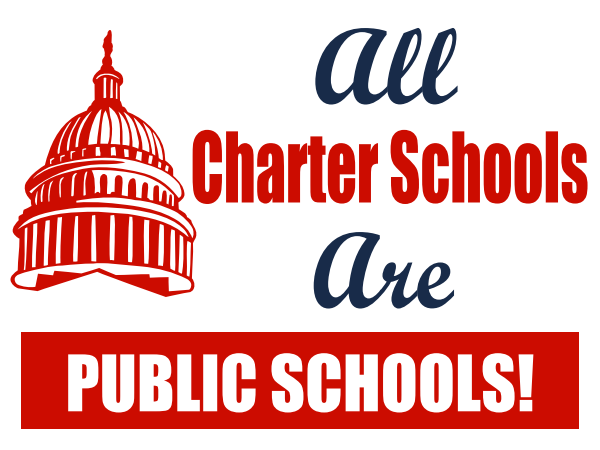 California Public Charter Schools
Charters schools are public schools. They are non-sectarian, tuition-free and open to any student who wishes to attend. Charter schools allow parents, teachers and the community to transform our public school system. Choice is a powerful tool for parents seeking access to quality education for their children.
The Importance of California Public Charter Schools
What is a California public charter school?
All California Charter Schools Are Public Schools!
All California charter schools are public schools. No exceptions!
There are absolutely no private charter schools anywhere in California.
Public Charter Schools Equal Free Public School!
Public in California means that there is absolutely no cost for students to attend (no tuition) and that California public charter schools must enroll all students who wish to attend, subject to availability within the school's enrollment capacity. California public charter schools cannot discriminate against nor exclude any student who wishes to attend. If the charter school exceeds its enrollment cap, then students may be placed on a waiting list for an equal opportunity to enroll in the future when space becomes available.
Public Charter Schools Equal Real Community Involvement In Public Education!
Charter School in California means that this particular type of public school is given the freedom and flexibility to establish a "charter" document that describes in great detail its unique mission, vision, and scope of educational services that it plans to provide for its students. The leadership team of public charter schools is most often comprised of community representatives such as parents, teachers, community leaders, and other concerned community members who are highly motivated to ensure that students have more equal and accessible quality choices in public education. This "charter" document is then submitted as a petition either to a local school district, county office of education, or to the State Board of Education for authorization and oversight. Once approved, most public charter schools then operate independently of their authorizers.
Public Charter Schools Equal Freedom Of Choice In Public Education!
Public Charter School means a public school of choice. That choice honors, respects and supports every parent's fundamental, constitutionally-based right to choose the type of public school that will best guide and prepare their children for a successful and productive adult life. Parents who enroll their students in a public charter school are free to choose, of their own free will, to partner with a public charter school for its educational services for their children rather than have their children forced to attend their local, neighborhood district-operated public school.
Public Charter Schools Equal Flexibility And Innovation!
Charter School Law in California grants public charter schools greater freedom and flexibility to offer students more innovative, specialized, personalized, and student-centered educational programs than are typically offered by district-operated public schools in exchange for higher expectations of accountability. In so doing, the legislative intent is to offer parents and students alternative public school choices that are beyond what district-operated public schools offer to help ensure that all students have more equal opportunity in all communities to access a free, high quality public education that meets their needs and prepares them successfully for college and career pathways.
Public Charter Schools Equal Greater Accountability!
California Public Charter School accountability is greater than that required of district-operated public schools. These accountability requirements include demonstrating on an annual basis quantifiable student achievement data that verify that the school is providing a quality education at least equal to or better than what similar type students would otherwise receive in a district-operated public school. In addition, California public charter schools must demonstrate annual fiscal and operational compliance with all relevant laws and regulations as a condition of continuing to operate. In both cases, and unlike district-operated public schools, public charter schools may be shut down if they are not meeting these stringent accountability measures. Finally, unlike district-operated public schools, California public charter schools must go before their authorizers every five years to renew their charter petitions in order to continue to operate thereafter. There is no such accountability requirement for district-operated public schools. District-operate public schools are allowed to continue to operate even if they are chronically underserving or failing students, and if they engage in fiscal and operational mismanagement and compliance violations!